Kent Kauffman
Welcome to my Home Page!
On this website you can follow me around the world on my travels and enjoy photos from many of the places as well. You can read about my background and family and check out where you might find me at any given time of the year. Further down is a rundown of the various pages. By the way, the photo above was taken on Table Mountain above Cape Town,South Africa.

"FABULOUS DUBAI & ARABIAN NIGHTS" - February 2015
My signature tour/cruise to Dubai was again a big success in February, 2012. See the Dubai blog for photos and descriptions of the 2012 trip. Five of us took an optional extension to Petra and the Dead Sea and thoroughly enjoyed these two world wonders. Now is your chance to experience this amazing part of the world by joining us next February, 2015!! Click here for details and itinerary of the 2015 trip.

"Wonderful South Africa" - Each Year in November Two back-to-back tours to South Africa in November 2013 continued my annual tradition. One group was American and one group was from Switzerland. See the South Africa Photo Site for photos and descriptions (auf deutsch) of the trip. The titles are in German, but photos are photos! Click here to see the blog for trip #5. in English!
In NOVEMBER 2014 I am only doing ONE private trip and one trip for Isings Travel. My trip for this fall is full, and the two for November of 2015 are filling fast. If you are interested let me know soon!
"Enchanting EGYPT" - February 2013
26 of us embarked on an adventure in Egypt. A Nile River cruise from Luxor to Aswan, followed by 4 nights in the Mena House Hotel in Giza (Cairo) right next to the pyramids! 19 of us continued on to Jordan for Petra and the Dead Sea. Take a look at this fantastic trip on our trip blog. I am planning on offering this tour again in February of 2016!! See the Egypt blog for photos and descriptions of the trip.
"Israel - Palestine - Jordan" - A special trip for EFree Church of Bozeman
March 29 to April 13, follow along as a group of 34 enjoy a fascinating trip to Israel and Palestine, with 3 days at the end in Jordan for Petra and the Dead Sea. Photos and commentary will be posted to our blog each day! www.EFCBisrael.blogspot.com
"Magnificent SOUTH AMERICA" - January 2012
Rio! Iguassu Falls! Buenos Aires! 19 of us headed to South America on a one-time opportunity for a cruise/tour, featuring a 7-night cruise to Buenos Aires, Montevideo, and Punta del Este, followed by two nights at Iguassu Falls and two nights on Copacabana Beach in Rio! January 13 to 27, 2012. See the South America blog for photos and descriptions of the trip. Then after the tour, Kermit, Alan, and I continued to Machu Pichu in Peru for an additional adventure!! See the separate Machu Pichu blog for photos and descriptions of our Peru extension.

"As I Remember" "AS I REMEMBER, STORIES OF EASTERN MONTANA'S PIONEERS" - Back in the 1960's my mother interviewed over 160 of the original settlers to Eastern Montana and published their stories in the Glendive newspaper. In 2006 I decided it was time to get them into a book, so I took the winter off and collected, sorted, typed, researched, edited, and got others to help with proofreading, typing, publishing etc. The result was two beautiful volumes of these fascinating stories. At times I wished I had never started the project, but ultimately it was immensely rewarding, especially seeing Mother's excitement and amazement at the success of the books. More information is available on our website for the books, www.As-I-Remember.com.
Mom's House Remodel Project!
See the 6-month job we did in 3 weeks!
SITE MENU
WHAT'S NEW PAGE - This is what I update most often, with brief descriptions of my adventures.
MY SCHEDULE - If you want to see where you might find me during the course of the year check here.
ABOUT PAGE - This is a brief description of my background and interests.
FAMILY PHOTOS - Just a few photos of our family.
The WAVE PHOTOS - This is one of the most incredible places I know. Here are six photos just to give you a taste. Several of the tour photo sites have quite a few more pictures from this area in Southern Utah.
SLIDE SHOW - These are relatively brief collections of photos from some of my significant adentures.
TOUR PHOTOS - Here you will find hundreds of photos from all over the world. After most of my tours or cruises I create a Picasa photo site with a brief description and link it to this page. The top link is a mixture of my all-time favorite photos, but following that the links are in chronological order beginning with the most recent.
MY STORIES - Anyone who knows me can imagine that I've had more than my share of adventures traveling around the world. During some of my more leisurely times on ships I've written down quite a number of them. Included in this section is a compilation of my Christmas letters dating back to 1983. Each of them is a fairly good summary of the particular year.
CRUISE CHRONICLES - Starting with my very first world cruise in 1989 I wrote descriptive letters along the way to share with family and friends. These are all posted here, right up through my most recent world cruise on the Queen Mary 2 in 2007.
CONTACT PAGE - Just what it says.... the various ways you can contact me!
GUESTBOOK - Feel free to leave a comment or read what others have said.
DUBAI BLOG - This is a NEW FEATURE for photos and comments of our cruise/tour to Dubai and region in February 2009. During the trip several members of the group will be posting photos and details of our adventures.
FINALLY! How can you tell if a cow has mad cow disease? This is one of my all-time favorites and it's back! Click here to laugh with the Mad Cow!
ENJOY!!
Robert Steven Searles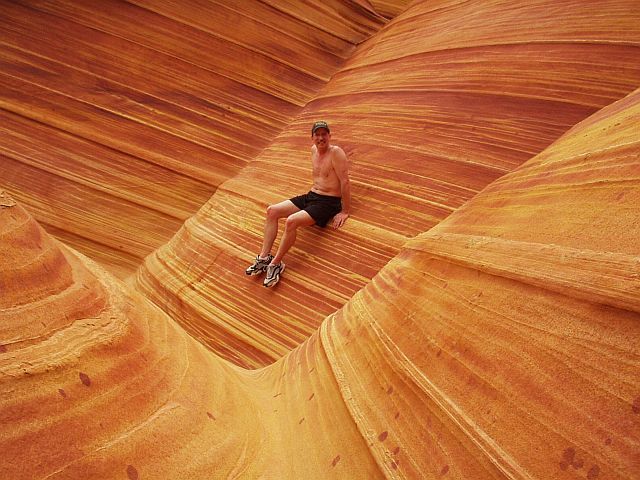 My best friend in Bozeman, Bob Searles, died suddenly of a heart attack Saturday, October 9, 2010. He was only 52 and was my best friend for over 20 years. Life in Bozeman is much different now without being able to "go over to Bob's" to watch the news, to play bridge, or to solve all the world's problems! More....
The WAVE and MOM MOWING
The WAVE, an isolated, unknown area in the Southwest, is my new favorite adventure destination. Only 20 people are allowed in each day and there is no marked trail to find it. Stunning sandstone formations!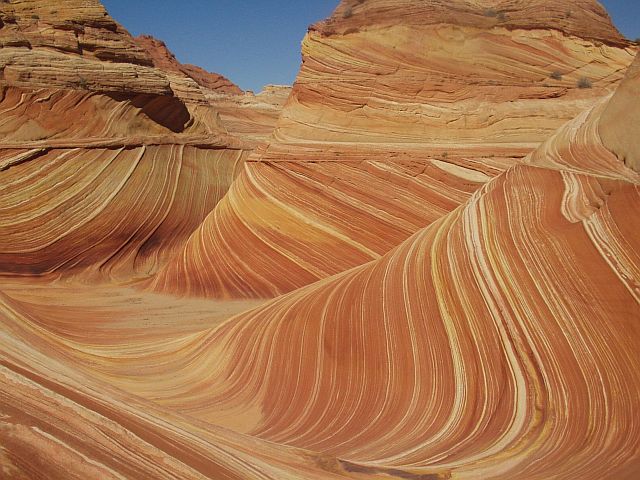 MOM MOWING - In May 2008 the Bozeman Chronicle photographer caught Mom out mowing the lawn and put it on the front page of the local section in the paper.

Visitor #67829